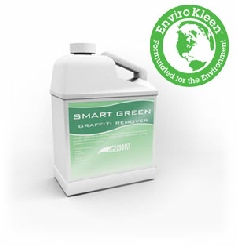 SMART GREEN Graffiti Remover – 5 & 20 litres
Product Description
SMART GREEN GRAFFITI REMOVER is a fast activating liquid graffiti remover that penetrates into spray paint and other graffiti materials. It quickly dissolves and breaks down most graffiti materials within 1-2 minutes; allowing it to be easily removed by rinsing with water and can attain 100% bio-degradability by air, water and soil applications.
Packaged in a 5 litre container this is an easy to use liquid graffiti remover with deep penetration and fast acting power, specifically formulated for everyday use on common exterior surfaces targeted for graffiti. It is a Certified EnviroKleen TM Environmentally-Preferable Product by Chemtel, Inc (one of America's leading chemical consulting companies) and contains a chemical blend of Sodium Hydroxide and surfactants in a specially formulated solvent solution.
The product is designed to remove graffiti from: masonry, brick, concrete, stone, mild steel, stainless steel, painted surfaces, and wood surfaces. This product works extremely well on both porous and non-porous surfaces. It can be applied via brush, paint roller or pressurised spray.
Masonry

Brick, concrete & stone

Mild steel & stainless steel

Painted surfaces & wooden surfaces